Spring2ACTion Business Fundraisers
---
The support of local businesses and their employees & stakeholders are a BIG part of Spring2ACTion. Not only does your participation help ensure a successful day of fundraising for 150 area nonprofits, but your dedication to their important work will be recognized.
Need more information on how this works & the value? Download the Info Sheet, short presentation below or contact Celeste@ACTforAlexandria.org.
Ready to get started? Download and complete the Employee Engagement Commitment Form and submit it to ACT for Alexandria by April 3. We will walk you through the next steps and planning!
How do you easily do this? Just sign up and check out the Business Toolkit below for easy campaign ideas, timelines, communication templates, marketing pieces and quick tips on how to engage your employees/vendors/customers. You can make this effort as easy or elaborate as you'd like!
**As a Business Fundraiser for Spring2ACTion, you will have access to confidential donor information.  As a Business Fundraiser participant, you agree to:
Use donor data solely for informational purposes and not disseminate the information or use it for promotional purposes.

Only contact the donor if the person is connected to your company/association/organization prior to and outside of Spring2ACTion.   
Click here to signup for the event
---
Highlights from 2019 Business Fundraisers
In 2019 we piloted this new part of Spring2ACTion and it was a BIG success for our community and local companies. Last year, seven local businesses raised over $90K, collectively, for the nonprofits in our area. They engaged their employees, vendors and customers to give back to causes important to them and increased awareness of our local nonprofit community. Here are some of their stories!
---
More Information
About Being a Business Fundraiser
Curious about what this entails and how fun and easy it can be?
Check out the short PPT by clicking "Learn More" or read the one pager below on Business Fundraising to learn how we will support and recognize your business, and easy ways you can be successful, make it fun and impactful for the entire community!
Learn More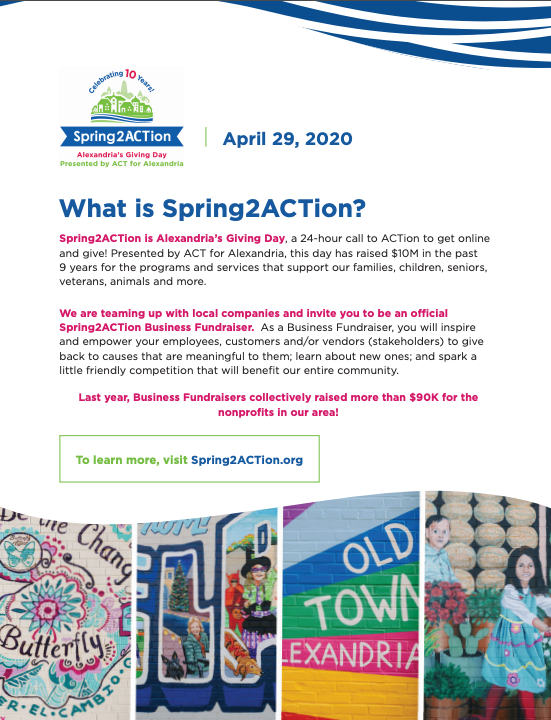 Click here for a printer-friendly version.
Business Fundraiser Toolkit
Ready to get started but not sure how?
This Toolkit will provide you with the basic resources you need, including how to run a successful Spring2ACTion campaign, how to promote your involvement through social media, and how to run a successful email campaign.
Toolkit